With the traditional three meals a day being a thing of the past, thanks to Snackification, millennials are on the lookout for easy, healthy snacking options that fit right into their busy lifestyle.
Everyday Athletes (like housewives, working professionals, children and students) who work hard day in and day out need healthy food to keep them energised throughout the day. Here, choosing the best healthy snacks packed with essential nutrients & vitamins is the perfect choice to keep you satiated for a longer time. Plus, they'll help curb your cravings for unhealthy food items.
Below are a few healthy snacks options for everyday athletes that we offer.
Healthy Snacks for Everyday Athletes
1. Energy Bars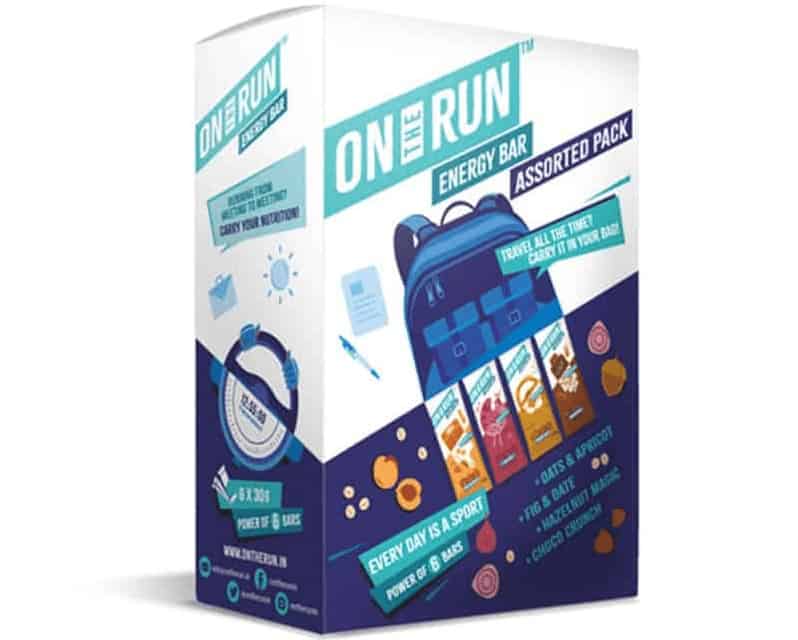 Energy bars are an excellent snacking option as they are a storehouse of nutrients such as protein, fiber, antioxidants, and healthy fats. They are portion-controlled, which makes them a mini-meal that can be consumed on the go. Termed as 'functional foods', energy bars offer essential micronutrients required for our body. They can be eaten in the morning and are an ideal snack that you can munch on in between meals.
ONTHERUN all-natural energy bars are available in four unique flavours. What's more, they are made from wholesome ingredients like nuts & dry fruits and Indian herbs (Ashwagandha & ginger) sans any added sugar or preservatives.
2. All-natural Trail Mix
The base ingredients of most trail mixes are nuts and dry fruits. These are energy-dense ingredients loaded with healthy fats, protein, and fiber that keeps you satiated for longer. It is one of the best foods for everyday athletes that can be enjoyed anytime, anywhere.
ONTHERUN trail mix is a 100% natural snack made from nuts, seeds, dry fruits, berries, seasoning and more. Nutrients offered by them include calcium, protein, and good fats. All-natural trail mix is a delicious and healthy alternative to processed food items. Also, these are available in four flavours – Indian Masala, Peri Peri, Thai Chili and Orange & Pepper.
3. Small Bites
Another high energy snack for everyday athletes, healthy bites are functional food that can be eaten on the go. They are a quick and convenient choice of snack for a busy lifestyle. Look for products that are under 150 Kcal, which are ideal to satiate craving and avoid overeating. Check out Coffee Bites and Green Tea Bites from ONTHERUN.
FAQs
Why is eating healthy snacks important?
Healthy snacking is important as it provides you sustained energy throughout the day. It also curbs hunger pangs and keeps you from overeating.
What kind of snacks should you eat?
You should eat snacks that fulfil the nutritional requirement of your body. Functional foods rich in protein, vitamins, and fiber are a good choice. These are excellent for everyday athletes who prioritize healthy eating for an active lifestyle.
What snacks should you avoid?
Any food item that offers zero nutritional value or has excess fats, added sugar, preservatives, artificial flavouring, or carbohydrates, should be avoided.