Oat-based breakfast cereals come in a variety of flavoured options. Not only are they tasty, delicious and nutritious, but an excellent way to kickstart your day! Most people are not aware of the difference between muesli and granola. The two may sound similar and offer the same benefits, but they are different, primarily in the way they are prepared.
A. What is Muesli?
As an uncooked ready-to-eat cereal mostly made of rice, rolled oats, fresh & dried fruits, nuts and seeds, Muesli is one of the most popular and healthy breakfast options. Muesli is raw and loose not baked or bound together as granola. The traditional method of eating muesli is to soak it overnight in milk, fruit juice or plain yoghurt and serve it cold. You can also add slices of apple or banana to your muesli to increase the nutritional value of your breakfast. Muesli is high in fibre and vitamins, and rich in protein, magnesium & iron. It can help boost energy levels as it is loaded with carbohydrates. It is also beneficial for weight loss and strengthens bones.
DIY Muesli Recipes to Try
Bircher muesli with strawberry, almond and apple:
Place 200g rolled oats, two cut apples, 1 tsp cinnamon, 250ml apple juice and 280g yoghurt in a bowl and mix well. Cover the mixture and refrigerate it overnight.
For the strawberry puree, place the 250g of strawberries and 1 tbs maple syrup in a food processor and whiz until smooth.
Stir the milk through the oat mixture until you get the desired consistency. You can top your muesli with extra yoghurt, almond, and strawberry puree.
B. What is Granola?
Granola has the same ingredients as muesli. However, while muesli is raw, granola is baked until it is crunchy. Common granola ingredients include rolled oats, nuts, seeds and dried fruits that are blended with honey or jaggery. To make this breakfast cereal more healthy, granola is also made with Indian grains such as ragi puffs, jowar and Amaranth. This breakfast cereal is best enjoyed with cold milk or plain (unsweetened) yoghurt. You can even add some fresh fruits to it.
Benefits of Granola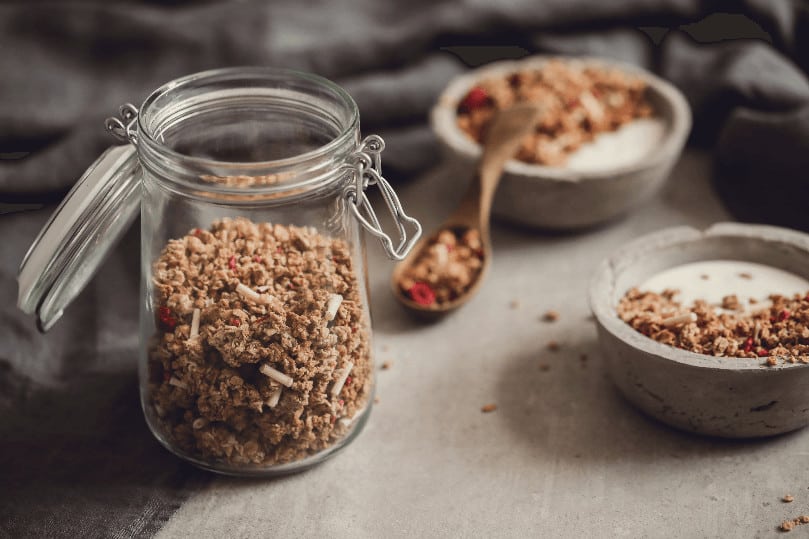 Granola is rich in fibre, which keeps you satiate for a longer time and improves gut health. It also contains plant-based protein and other micronutrients.
It is easy to consume on the go, which is the reason why backpackers and hikers tend to carry granola bars as it is simple to store and lasts for longer.
Granola also has a significant amount of iron and can help boost your immunity.
C. Difference Between Muesli And Granola
The main difference between muesli and granola is that granola uses natural sweeteners and is baked, while muesli is raw and entirely sweeten with dried fruits. However, they both consist of the same ingredients.
Muesli is uncooked and loose, while granola is chunks of oats & nuts bound together during the baking process.
Calories in muesli is less compared to granola. But, both are high in natural sugar, so they should be eaten in moderation.
FAQs
Is muesli healthier than granola?
Both granola and muesli consist of the same ingredients – rolled oats, nuts, dried fruits and seeds. However, granola uses natural sweeteners and is baked. Whereas, muesli is uncooked and does not contain any added sugar, which makes it healthier than granola.
How do you sweeten muesli?
You can sweeten muesli with honey or jaggery. However, unsweetened muesli is a healthy breakfast option.
What makes granola stick together?
Granola uses natural sweeteners like honey or jaggery to bind all ingredients. This makes granola stick together.
Which grains can I add to muesli?
Some of the grains that you can add to your muesli are wheat bran, finger millets, barley, whole rye, ragi and whole quinoa.
Which dried fruits and dried berries can be added to muesli and granola?
Berries and dry fruits add flavour to a bowl of muesli and granola. The proportion should be 1/2 to 1 portion of dried fruits to a bowl of granola/muesli. You can add dried figs, raisins, currants, dried cranberries, dried apricots, dried strawberries, dried kiwi, and dried mangoes.