Every time the festive season comes around, we loosen up our buttons and make space for some delicious food. To many of us, true celebration is indulging in the festive feasts without thinking twice! And that's the way it should be. If you're here right now, I know that the favourite part of festivity for you is food too.

As we approach Diwali, I thought it was time to let you in on some very different recipes. These are from my Live session with OnTheRun from a few weeks ago. I want to bring them back because they are nothing like you have made before and adds some fun and surprise element to the festive food. The best part about these is that there's something for everyone and in case you are feeling guilty of eating, there is a healthy options too!!! They all use OTR's 5 Grain Cereal in one form or another. Here it goes!
Not Your Regular Smoothie Bowl
Let's start off with a super easy recipe that's scrumptious, filling and healthy!! Festive mornings can be so hectic but once you have this for your breakfast, you're ready to go and make the most of the day. This one's a Smoothie Bowl with a twist featuring our 5 Grain Cereal!
What you will need:
5 Grain Cereal
Bananas (Or any other fruits you'd like to add)
Cocoa Powder
Honey
Almond Milk
Chocolate Chips
Mixed Seeds
Blend the fruits with the almond milk and cocoa powder to create a thick smoothie base.
Then, pour the mixture into a bowl.
And finally, top it off with loads of 5 Grain Cereal, Mixed Seeds – these are also in the cereal but I prefer to add some extra, Chocolate Chips – you can skip these if you want to keep it very healthy, and lastly some honey for added sweetness. Get creative with the garnishing and make it an Insta worthy Diwali morning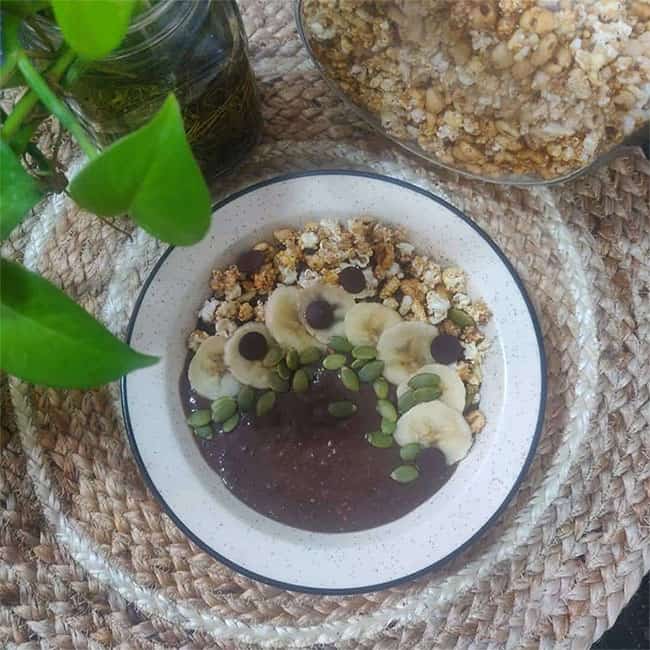 Pretty in Pink Pancakes
The next recipe is the loveliest looking one out of the lot and they're kids' favourite. If you have trouble including a lot of nutrition into their meals, prepare this and it will be easier than ever. I'm sure because kids already love 5 Grain Cereal so I'm know they'll love this too! The recipe is for Pancakes, using 5 Grain Cereal, millet flour and beetroot juice; it can also be replaced with spinach or carrot juice for attractive colouring and to give it a grand, festive feel.They taste so delicious and look so good that you little one will never make a fuss about eating them! So listen up parents, this one's for you.
For the batter:
Flour of your choice
5 Grain Cereal ground to a powder
Milk of your choice
Mix the ingredients and blend to aerate and create a fluffy batter. Pour it into 4 separate bowls and keep aside.
Next for the beetroot mixture – boil and blend the beetroot.
In each bowl drop in increasing quantities of the beetroot mixture to give you varying shades of pink!
Mix the batter and pour some onto the pan from each bowl to create pretty in pink pancakes in shades.
Complete the plate with garnish that your family loves like fresh fruits, chocolate chips, maple syrup, Kakvi or honey.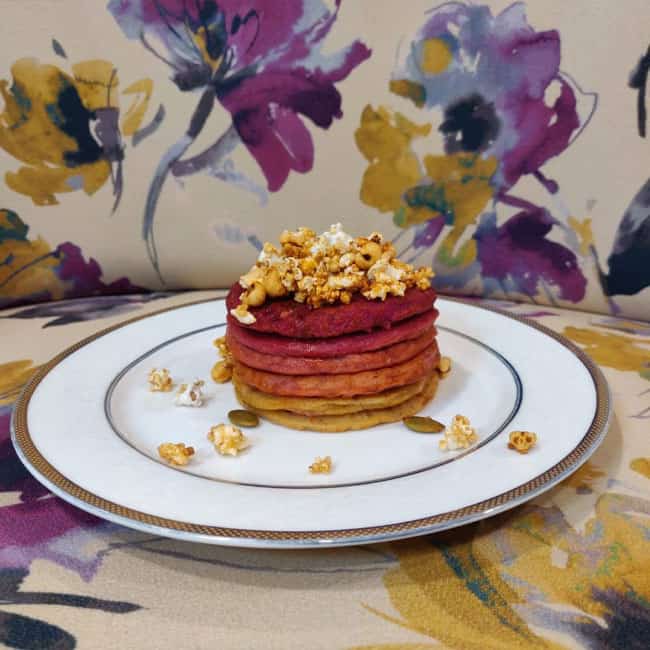 No Bake, No Hassle, Cheesecake
This one leans more towards indulgence but is very quick and easy to make – cheesecake! One of the most loved desserts!! If you enjoy making it at home or if your family loves it, change it up with the addition of our 5 Grain Cereal and surprise them with this new version of their favourite dessert.
For the Cheesecake mixture:
½ cup of whipping cream
1 cup of cream cheese
Mix them together with a sweetener like Kakvi or honey and let it set for 1 hour.
For the Cheesecake base:
Salted Butter
Powdered 5 Grain Cereal
Mix the two! I love using 5 Grain Cereal as a base because it's so versatile and it adds loads of nutrition to an otherwise indulgent recipe.
Once the Cheesecake mixture is set, grab a Dessert cup and layer it with the 5 Grain Cereal butter mixture as the base.
Squeeze in the Cheesecake mixture with a piping bag.
Add another layer of 5 Grain Cereal mixture and top it off with more Cheesecake mixture!
Garnish with a topping you love like seeds or chocolate chips and voila! You're done.
Surprised that it is so simple??? Then go ahead and try your hand at these.
It's the perfect dessert for when guests are over and you want to put up something in jiffy.
3 amazing, easy and nutritious dessert recipes anyone can try at home this Diwali. Trust us, the 5 Grain Cereal twist will be a pleasant surprise for anyone who tries! And it's a refreshing break from the same old recipes we are used to preparing.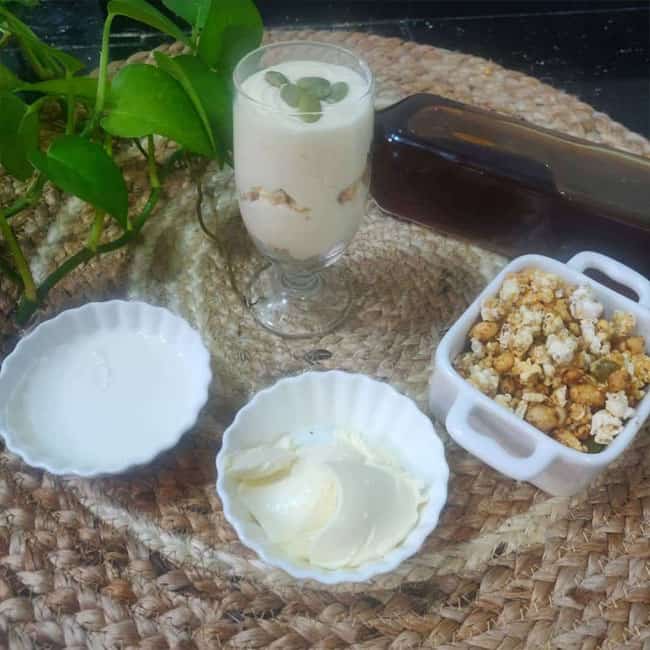 If you want a better look at the recipes, check out my Live session with OnTheRun where I've explained every detail to make it as easy as possible for you!
